HEAVY CONSTRUCTION >> Read More
ENVIRONMENTAL REMEDIATION >> Read More
TUNNELING >> Read More
TRENCHLESS TECHNOLOGY >> Read More
SPECIAL APPLICATIONS >> Read More

INTRODUCTION TO THE FIELDS OF GEOFLUIDS
The transfer of very large localized loads through drilled or bored piles has become common place today in almost any ground conditions thanks to a large part to improved drilling fluid materials and practice. From a 6 inch diameter micro-pile to a 9 feet diameter caisson or 15 feet square load bearing element, a variety of fluids are responding to specific soil conditions, skin friction optimization, chemical environment or any other particularity.
Mass transit, depressed highways or railroads, underground parking garages, complex waste water works and other utilities require sophisticated excavation support systems, particularly below the ground water table. A combination of traditional foundation and cutoff wall construction techniques has caused the development of very performing construction techniques, derived from the slurry trenching technology: reinforced concrete diaphragm walls, soldier beam tremie concrete slurry wall, pre-cast concrete panels installed in self-hardening slurry, steel sheet piling or soldier beam and lagging prefab panels placed in IMPERMIX®.
Barriers, cutoff walls, slurry trenches are a main tool in containing migrating contaminated plumes. Typically, watertighness and compatibility are the main properties. Mineral slurries either from just clays or self-hardening provide the main characteristics. Non-trenching techniques such as deep soil mixing and jet grouting also form barriers, using properly formulated self-hardening slurries or grouts.
Passive permeable and reactive barriers are more and more common and a departure from the traditional waterproof barrier. The so-called "funnel and gate" system combines the impervious barrier (funnel) with the pervious passive and reactive barrier (gate) through which the ground water flow is concentrated.
Modern tunneling has become very mechanized. Soft-ground tunneling often uses machines that are either of the earth pressure balance type (EPB) or the slurry shield type. A few manufacturers make hybrid machines that combine both characteristics. EPB machines eventually require soil conditioners to fight unfavorable soil conditions. Slurry shield machines require a face support fluid capable of being continuously recycled through a solids separation plant while maintaining its properties within a narrow band.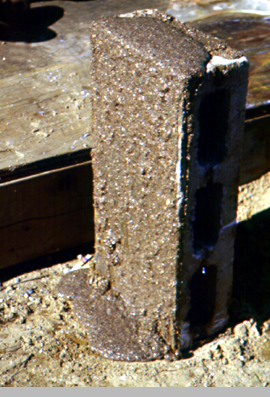 The drastic reduction in public disturbance by implementing trenchless techniques in the various urban utility works has caused a dramatic evolution in the vast array of technologies. Microtunneling is an evolution of the older pipe jacking and auger boring. In all such techniques, proper lubrication is essential for uneventful drives and reduced jacking forces. When a service pipe is placed inside the jacked pipe, the annulus created need to be backfilled. Cellular concrete has been the common practice. Liquid backfilling with self-hardening slurry has proven a cost effective and more flexible construction method.
Our company welcomes challenges that gives us a chance to build on our experience and advance construction technology such as when the Big Dig program in Boston required the jacking of huge pre-cast concrete roadway tunnels through frozen ground, the C09B4 Joint Venture desired a sidewall antifreeze lubricant capable of hanging vertically while being easily pumpable: the result was FREEZLUBE™.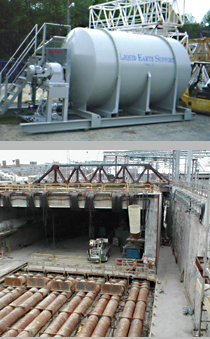 SPECIAL SITUATIONS:: in the process of developing FREEZLUBE™ for a CA/T Big Dig project in Boston, the site restrictions precluded on site preparation of the product. FREEZLUBE™ very high viscosity would make it difficult to transfer from a preparation mixer to a holding vat. The solution was to manufacture a mixer unit that would hold enough product to satisfy any continuous drive and contain the pumping units to inject FREEZLUBE™ through the pre-cast tunnel walls. Specialty Fabricators, Inc. shouldered the task of engineering and fabricating the 4,000 gal capacity unit. FREEZLUBE™ was prepared off site and delivered in its mixer/dispenser unit and eventually lowered on the floor of the tunnel with a 50,000 lbs pick!
This mixer is now available to the microtunneling industry as a means of preparing lubricating slurry at longer intervals and not dedicate personnel to that task. GEOGREASE™ can also be prepared in the mixer off site when coarse ground conditions warrant a pasty lubrication product.
Back to top.