Our expertise resides in projects using geofluids in heavy construction and underground geotechnical fields. If your search engine brought you here and your interest is in the coal slurry pipeline transport business, try another door! But if you are in the pipeline construction business, look on, you may find some good ideas out of this site.
Our experience resides with construction projects where the wet method of excavation is used: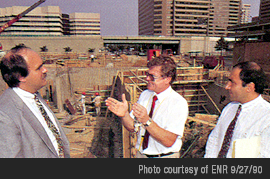 Vertical Holes:
• Quality undisturbed soil sampling
• All wells
• Grout holes
• Drilled Shafts
• Tunnel access shafts
Angle holes:
• Soil anchors
• Directional drilling
Horizontal holes:
• Horizontal recovery drains
• Microtunneling
• Slurry shield tunneling machines
Trenches:
• Slurry trenches
• Diaphragm walls
• Self-hardening slurry cutoff walls
• Pervious trenches for extraction, injection or venting
If you are contemplating a project involving work in the wet and you either would like to know more about it or you are already in the thick of it with problems cropping up and you looking for help on a design or specification on a practical issue, we are your outside resource. If you are going into a dispute and you wish to assess your position, try us as a sounding board. E-mail us at info@liquidearthsupport.com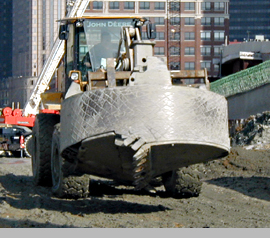 It still may be surprising to some that a 9 foot diameter hole in saturated soil can be taken down to over 200 feet with no other support than an appropriate drilling fluid. At least most of the times, but underground work is always full of surprises. A sound technical formation on the part of field supervisory personnel is essential to the success of excavations under slurry support; as the working fluid is evolving constantly as the excavation progresses, a good understanding of the physical and chemical processes at work is essential. Quality control and feedback of field observations are integral tools for the man directly in charge of the excavation. Here as everywhere, the Observation Method is a valuable discipline for good work. As in many other areas however, education and training may be lacking in the real world, and allowances have to be made accordingly.
Your Slurry Consultant Personal History >> Read More
Back to top.