IMPERMIX®

HEAVY CONSTRUCTION >> Read More
ENVIRONMENTAL REMEDIATION >> Read More
TUNNELING >> Read More
TRENCHLESS TECHNOLOGY >> Read More
SPECIAL APPLICATIONS >> Read More

HEAVY CONSTRUCTION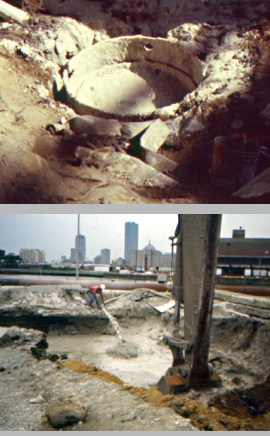 DEEP FOUNDATIONS
Collapsing augered holes and slurry trenched panels have been stabilized by mixing IMPERMIX® in situ using as mixing water whatever fluid is in the opening. The heavy slurry IMPERMIX® slurry has an excellent cake forming characteristic and the settling process assures that upon early cure, re-excavation with a conventional drilling fluid will be uneventful.
When pre-excavation below the water table is required to remove obstacles in the way of some foundation work, a cost effective method is to excavate under IMPERMIX® slurry and let it set in place. Upon curing, the slurry is strong enough to support heavy equipment and presents a cohesiveness helpful to the subsequent penetrations.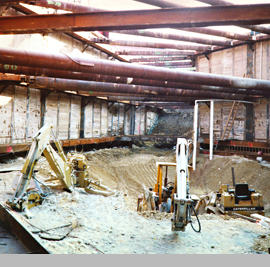 SUPPORT OF EXCAVATION
An economical alternative to cast in place concrete diaphragm walls, is to trench the slot under IMPERMIX® slurry and introduce in the wet a prefabricated structural panel, be it laced soldier beams and lagging, mated steel sheet piling or a precast concrete panel. 100% watertightness is provided by the slurry, and linear bearing loads are transmitted by the IMPERMIX® slurry that has at least a 15 tsf capacity when fully cured. Using IMPERMIX® slurry as a drilling fluid for the installation of soldier beam solves the triple issue of drilling mud, bottom socket concrete and shaft backfilling into a single answer: quick and clean.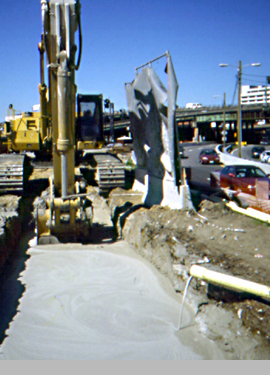 LIGHT WEIGHT BACKFILLS
IMPERMIX® typical formulations weigh between 68 and 75 pcf. This is much less than soil. When excavation takes place in weak soils, eventually with a subjacent peat or organic silt layer, and if this excavation is below ground water, then the backfilling choice is problematic. IMPERMIX® solves the problem by first permitting the excavation under slurry, second by being light and third by being highly cohesive, any concentrated load on the surface is distributed over the weak layer.
Click Here for presentation of "DFI Slurry Wall/Trench Committee, St. Louis
Back to top.